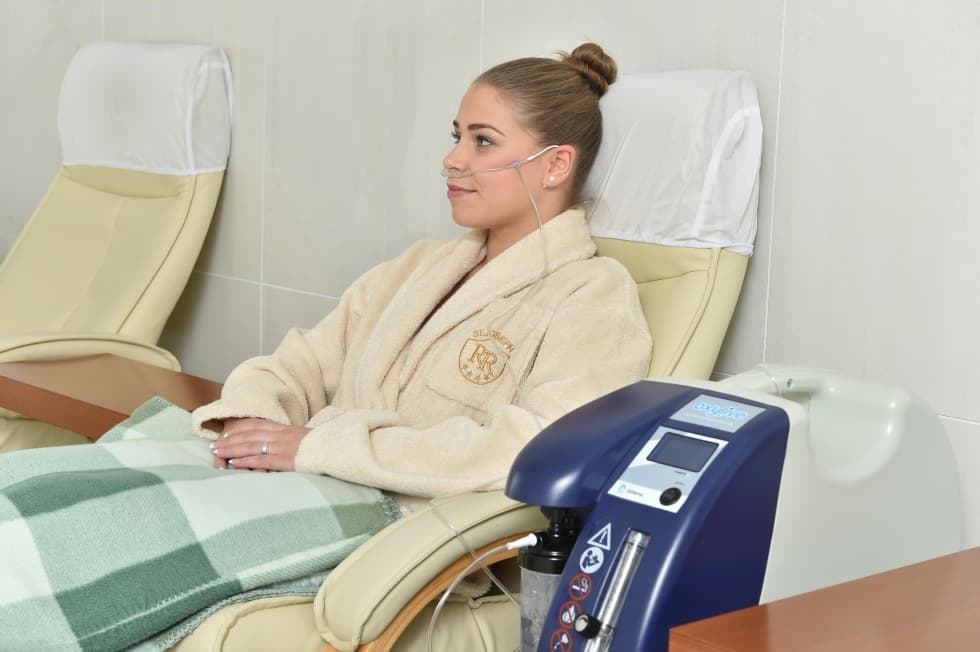 MACHINE TRACTION THERAPY
Traction
Traction therapy consists of stretching in the axis of the joint and is performed using a special device, where not only the tension force and the duration of the whole treatment are set, but also the dynamic tension and the rest interval.
HERAPEUTIC LASER BEAMS
Laser
The laser emits electromagnetic radiation in the form of a beam that is polarised, coherent and minimally diverging. Its effects are mainly bio-stimulating, analgesic and anti-inflammatory.
GAS INJECTIONS
Pneumopuncture
It is also a reflex method – it uses a combination of the effect of acupuncture and local application of CO2 subcutaneously, i.e., via gas injections. Painful syndromes and functional disorders are relieved.
MAGNETIC
Magnetic therapy
It accelerates healing, acts against pain and has an anti-inflammatory effect.
THERAPEUTIC ULTRASOUND
Ultrasound
The principle of therapeutic ultrasound is mechanical waves and heat generation deep inside the tissues. Improves blood circulation and tissue nutrition, helps relieve pain..
ELECTRO
Electrotherapy
Electrotherapy uses an electric current of various frequencies, intensities and polarities for healing. It relieves muscle tension, reduces pain, improves blood circulation and counteracts swelling.
THERAPEUTIC EXERCISE
Group therapeutic exercise
The most important and specialised method of rehabilitation. Mutual trust and cooperation are necessary for an optimum result. We offer therapeutic group and individual bodywork exercise.
GROUP EXERCISE IN WATER
Therapeutic exercise in the pool
Combines the benefits of exercise and submersion in warm water. It helps to relax the body, water relieves the joints and makes exercising easier.
PARAFFIN GLOVES
Paraffin hand wrap
It is applied by immersing your hands in a special container with warmed paraffin and subsequent wrap (this enables the heat to last longer). A layer of paraffin deeply warms the small joints of the hands, treats the skin, relaxes stiff muscles and joints and improves blood circulation.
ORAL CAVITY RINSE
Gum irrigation
This is a gum massage with hot spring water under pressure; has a healing effect on the mucous membranes of the oral cavity. It has a therapeutic and preventive effect against periodontal disease.
FOR THE TREATMENT OF THE RESPIRATORY TRACT
Inhalation
Steam from mineral water is used for inhalation, which moisturises and cleanses the airways. It has healing effects on mucous membranes affected by inflammation.
OXYGEN THERAPY
Oxygen therapy
During oxygen therapy, humidified air enriched with 40-60% oxygen is inhaled. It improves the function of the immune system, heart activity and stimulates cognitive ability.
GAS ENVELOPE
Dry carbon bath
The dry carbon bath applies carbon dioxide gas to the body in a closed plastic bag. After the gas is absorbed through the skin, the blood supply to the tissues is improved and the healing and regenerative processes are thereby accelerated. Muscle fatigue disappears, blood pressure values ​​adjust.
INFRARED RADIATION
Infralamp
During the application of infra-red radiation, the treated area is deeply warmed. Eliminates fatigue and pain, is suitable for colds. It has an effect like any other heat treatment.
BIOTRONIC LAMP
Biolamp
A biolamp, like a laser, emits polarised radiation. Compared to a laser beam, the only difference is a lower wavelength of radiation. As a result, its light not only acts as an ordinary source of surface heat, but also has the ability to penetrate deeper into the deeper structures of the tissue and spread there.
IMPROVES BLOOD CIRCULATION
Scottish sprays
Alternating stream of hot and cold water under pressure from the nozzle.
PROMOTES BLOOD CIRCULATION
Whirlpool bath for lower limbs
Bath in water at a temperature of 37°C with a strong mechanical effect. During the bath, the lower limbs are massaged with a stream of water flowing under pressure from the nozzles.
IMPROVES BLOOD CIRCULATION
Kneipp bath
By alternating cold and heat stimuli on the lower limbs, their blood circulation is improved, followed by relaxation and calming.
FOUR CHAMBER GALVANIC BATH
Hydrogalvan therapy
Electrotherapy, during which a direct galvanic current acts on the body in an aqueous environment. It helps with post-traumatic conditions, diseases of arteries, veins and lymphatic vessels, ischemic disease, inflammatory nerve diseases and others.